ICE TEA PEACH
Black Tea - Peach
A picnic in the park or ice-cold refreshment to-go? Sweet and fruity meets the gentle tartness of black tea to transform your water into ICE TEA Peach – without the sugar!
12 waterdrop® Microdrink ICE TEA PEACH hydration cubes
• Black Tea - Peach
• Natural fruit and plant extracts
• Valuable vitamins C/B3
• Calorie-free
• Sugar-free - suitable for people with diabetes
• No artificial preservatives
• Gluten-free
• Vegan
• Low caffeine content (1.8mg/100ml drink)
• Store away from heat and light and in a dry place
12 Servings per container, Serving size: 1 cube (2.1g), Amount per serving:5 Calories
Average nutritional values
% Daily Value*
Not a significant source of saturated fat, trans fat, cholesterol, fiber, vitamin D, calcium and iron.
*The % Daily Value tells you how much a nutrient in a serving of food contributes to a daily diet. 2,000 calories a day is used for general nutrition advice.
Ingredients: Citric Acid, Tea Extract*, Sodium Carbonate, Potassium Carbonate, Mango Essence, Inulin, Malic Acid, Calcium Carbonate, Natural Flavor, Sucralose, Citrus Fiber, Peach Juice Powder, Vitamin C (Ascorbic Acid), Vitamin B3 (Niacinamide).
*Adds a trivial amount of caffeine.
NET WT 0.89 oz (25.2 g)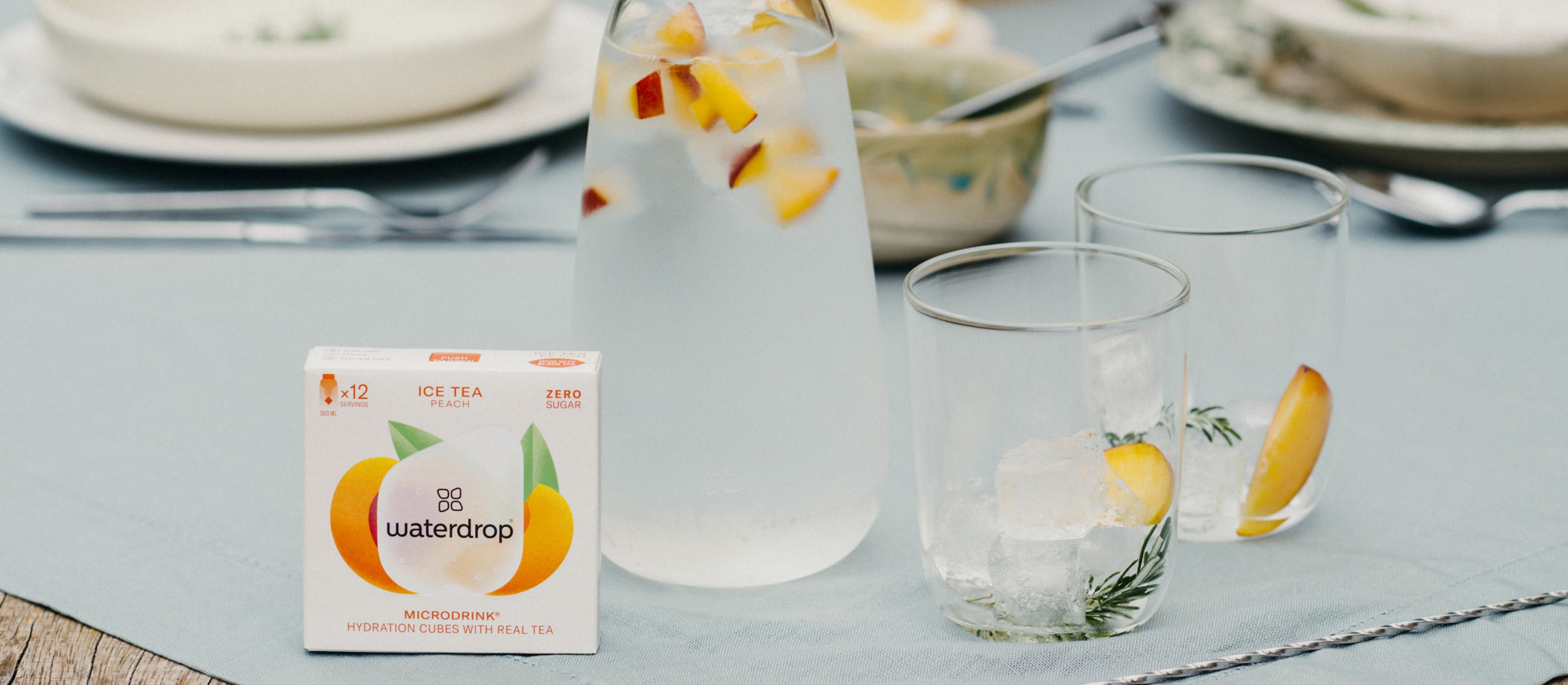 The best ingredients, all in one cube.
Full of the best fruit & plant extracts and made with real tea, Microdrink ICE TEA transforms your water into a fruity refreshing drink.
HOW DOES WATERDROP® WORK?
Water. Drop. Enjoy!
A waterdrop® Microdrink is a small, sugar-free cube that adds a burst of fruity flavour to your water in just 3 easy steps:
Dissolve the cube completely
Enjoy your refreshing drink right away
ICE TEA PEACH
Fresh & exci-tea-ng!
Thanks to its practical form, your ICE TEA can conveniently go where you go and easily be shared with others: think in your bottle, in a carafe at a family lunch, or simply with friends. The choice is yours!